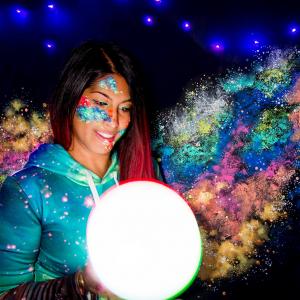 Roshni Wijayasinha
Artist member since 2019
Markham, Ontario
Roshni Wijayasinha is a Canadian visual artist who specializes in large, abstract paintings that are inspired by nature and movement. Using acrylic and mixed media, she experiments with light, colours, textures and finishes, and the majority of her pieces can be transformed under a black light. Roshni recently began pursuing her professional art career and started showing publicly in July 2017. Since, she has gained great traction, being featured at several juried exhibits, galleries, libraries and hotels across North America. She was also commissioned to adorn six permanent traffic boxes as well as the front window of a luxury eyewear brand in downtown Toronto, has been published in an art book and won a the only live painting competition she has participated in.
---
Describe the person your work appeals to in 3 words
energetic, aesthete, adventurous
Favourite medium
UV / Black Light Paint
Best season of the year in Toronto
Summer
During my breaks, I tend to ...
doodle, imagine, snack
Who do you consider a genius?
Salvador Dali
When I'm not making art, I'm (a) ...
Marketing / Startup Consultant
Upcoming Exhibitions
2019-02-09
C9 Gallery, Toronto
Every Day is Valentine's Day
Select Past Exhibitions
2018
Cutler & Gross, Toronto
Warm Winter's Breath
2018
Mimico Public Library, Toronto
Artist Program
2018
Start Outside the Box, Toronto
Street Art Installation - Permanent
2017
Smiling Buddha, Toronto
Dirty Talk Art Show
2017
Scarborough Arts Council, Toronto
Annual Juried Exhibit
2017
Black Cat Artspace, Toronto
Salon of Inclusiveness
2017
Artusiasm, Toronto
Celebration
2017
Federation of Canadian Artists, British Columbia
40 Below
2017
Fusion Arts, Online
Fusion ArtSkies Online Juried Art Exhibition,
2017
Federation of Canadian Artists, British Columbia
Limitless Online Gallery
2017
Artusiasm, Toronto
Animal Kingdom Exhibit
2017
Hashtag Gallery, Toronto
Untitled Exhibit
Accolades
2017
Art Slam Competition
Winner
Press
2017
Scarborough Arts Council
Big Art Book
Residencies
2017
Hilton, Markham
Permanent Collection